First Stop! I found my chuckie taylor foot stepping on the pathway of Kusina Salud. Pick up the menu and ask the waiter for the best seller!
…After my tummy nibbled, my mind followed… a thought of listing the top food in the City roam on my mind.
5. KUSINA SALUD
– One of the best buffets and a great menu selection to start a lazy Sunday morning food trip. My tip for the adventurous? Go ask for the Seafood Kare-Kare.
4. MYRNA'S MAMI HOUSE
–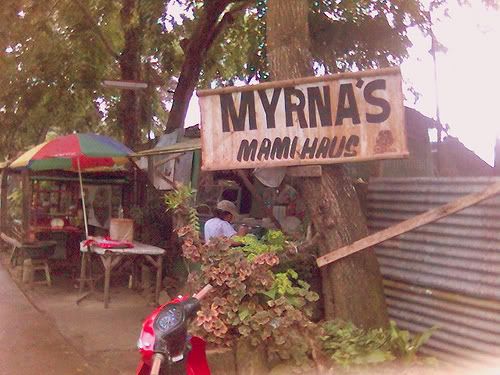 Mami is back in town (for some of us, it never went out). I went to Sampaloc Lake to defy that the old is still the best for the Mami Wars. Myrna has been around since 1960s. Located near the mystical Sampaloc Lake, it is the place for the nostalgic and the reflective. I remember the time when I first ate my Mami, it cost my father 16php for two bowls of this majestic soup. The price is right and the taste is right. A warm feeling to end my bulging stomach (for 40php, todays price).
3. HOTSPOT SIOMAI HOUSE
- Named for its only menu and specialty. Siomaiyan near San Pablo Doctors has been the mecca of a true Siomai lovers. If you need fried, steam or with rice. This is the siomai haven.
2. MOMSI'S
– A stone throw away from Siomai House, Momsi is simply superb in Pinoy Delicacies." I dont know how much food i can eat" but the Lumpiang ubod in Momsis' is simply irresistable.
1. GOLDILOCK'S
-
AGAIN " I don't know how much food I can eat!' but this is a nibbling day for me. I did reserve half of my bodega for the best.
Located near Ultimart shopping Plaza, Goldilock's has been my valid excuse to return home late; of course because of a wide variety of Goldilocks' famous pasalubong…
Pasalubong for my wife! a mouth watering Almond Java Mousse; for my 7 year old kid, a varied flamboyant flavor of Pulvoron; for my mother who loves cookies…a tasteful and ever delighted bag of Chocolate Chip Cookies and for me! Simply a bag of delicious Popcorn and an indulging beauty and sweetness of a Black Forrest Cakes.
This is the last in my stopover list but Goldilock's is the ONE…Yap!
You're the one Goldilock's, because you are truly radiant, memorable and delicious beyond words.
Still with my 80's anthology as my verve soundtrack, I humbly ride back home with my Backseat full of Pasalubong from my last stop over and yeah, a dozen of stories to tell.
Can't wait to start nibbling with my Black Forest… Hmmmm. Delicious…

It was a nibbling kind of Sunday! Yap, a day to surmount the appetite of my ever growling bodega. I hit my 83 box type, ended getting my mixed tape of 80's anthology and headed to the southern part of the city. It was a day to go road tripping and food tripping. The time is 9:45 AM, too early for my lunch and too late for my breakfast.